Here we are again with another What I Ate Wednesday hosted by Jenn from Peas and Crayons.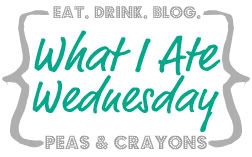 Breakfast:
The day before this day of eats we had ordered in Mediterranean food. I ordered roasted veggies with mine and this scramble is what happened to those leftovers. This breakfast included egg whites with roasted cauliflower, broccoli, carrots and bell peppers. I also had a much-needed coffee with a splash of vanilla soy milk.
Stir-fried bean sprouts and cabbage with leftover shredded chicken, flavored with low sodium soy sauce, sesame oil and sesame seeds. So simple but so delicious.
Snack:
The second the temperature goes even a degree above 0, I get hit with a major fro-yo craving. So of course I drag my kids out to get some (they're really complaining about this). I always go with the most basic flavors...chocolate and vanilla. And I usually choose the same toppings all the time too. I like it to look like there's a party in my bowl so I typically choose oreo crumbs, yogurt chips and colored sprinkles are a MUST!!!
Dinner:
Looking back I'm noticing my dinner broke my meals-out-of-bowls theme for the day. I've mentioned before my preference for eating out of bowls. This dinner was shrimp, onions and peppers in a home made chipotle sauce in a La Tortilla Factory low carb, high fibre wrap, topped with low fat shredded cheese and green onions. So good, but so spicy. I think I went through 3 bottles of water to eat this one wrap. Even my husband found it spicy.
Snack:
And the bowl theme continues here with my oatmeal that I didn't eat for breakfast and then craved all day. I normally use quick cooking oats for my breakfast oatmeal, but since I had more time I decided to try the large flake old fashioned oats that were sitting in my pantry untouched. I took 1/4 cup and then added 3/4 cup of water and microwaved for 90 seconds. Usually at this point with my quick oats, all the water is absorbed. But not with old fashioned oats. I had to let it sit for 10 minutes so that those large oats could absorb all the water. Then I mixed in an egg white for volume and microwaved for another 1.5 minutes. I then added half a tablespoon of crunchy peanut butter and no sugar added strawberry jam. Heaven in a bowl I tell you. The real old fashioned large flake oatmeal is so much better than the quick oats when you actually have the time to let them soak, and the addition of crunchy peanut butter was a great choice because it added crunch.