Here I am with another What I Ate Wednesday post. I love this link-up for so many reasons. But the main one is that it's gotten me to include so much more variety in what I eat daily. I used to eat almost the same thing every day. If it wasn't the same thing, it was something very similar. Looking back, there was no way I was getting all the nutrients I needed eating that way and it was also really boring. Now I always look forward to Wednesdays because I can't wait to be inspired by new meal ideas to try. Here are a days worth of my meals and I hope they inspire you. For more healthy meal inspiration, head over to Jenn's blog Peas and Crayons.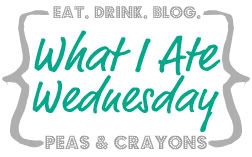 Breakfast:
This is my favorite breakfast this week. First I cook A LOT of pre-chopped green, purple and carrot coleslaw with some low sodium soy sauce. Then I toss in 1 egg and 3 egg whites and scramble it all together until it's well done. This is so much easier than having to roast veggies first. I don't know why I never thought of it before. I also love that it contains tons of fibre, some fat and some protein which keeps me full for hours. There was also 2 cups of hazelnut coffee with vanilla almond milk.
Lunch:
A piece of the salmon loaf I had made earlier in the week topped with a home made lemon dill yogurt sauce. I also had a side salad and I used Loblaws blue menu tzatziki for the dressing.
Snack:
I can't get enough of these mini peppers. They're sweeter and crunchier than regular bell peppers. I have to keep a constant supply of them in my house. Me and boys can finish an entire bag in one sitting if I bring the whole package to the table. So I've stopped doing that to try and conserve them. They make a great snack dipped in hummus.
Dinner:
I had made slow cooker shredded mexican chicken (basically chicken thrown into the slow cooker with salsa, black beans and corn) so I filled a baked sweet potato with this delicious mixture. Then I topped it with a home made creamy avocado sauce (avocado, fat free Greek yogurt, lemon juice, garlic, salt and chili powder), a drizzle of bbq sauce and green onions. And of course there had to be some greens, so steamed broccoli it was.
Snack:
I made this chocolate chip cookie pie last week. It's made with chickpeas as the base rather than flour and it was absolutely delicious. I can't wait to make it again. Every time I had a piece I would heat it up in the microwave for 45 seconds so that the chocolate chips would be all melty and gooey just like in the picture above.